Sri Lankan Police summon Batticaloa council members over Sathurukondan massacre commemoration
On September 9, 1990 Sri Lankan soldiers executed 185 Tamil men, women, and children from Sathurukondan and surrounding villages. Decades later, justice remains elusive despite strong evidence and according to Batticaloa Municipal Councillor Thuraisingam Mathan, Sri Lankan police are carrying out an investigation against those who paid tribute at the Sathurukondan massacre memorial on its 31st anniversary.
Mathan and Municipal Councillor Thayalakumar Gowry were summoned by police on Wednesday and informed that, "investigations were underway on the instructions of the Chief of Police […] into the reason for attending the event and the lighting of memorial lamps."
These investigations "call into question the state of the country," said Mathan, "no accountability has been taken with the Sathurukondan massacre" yet police are investigating the memorial event?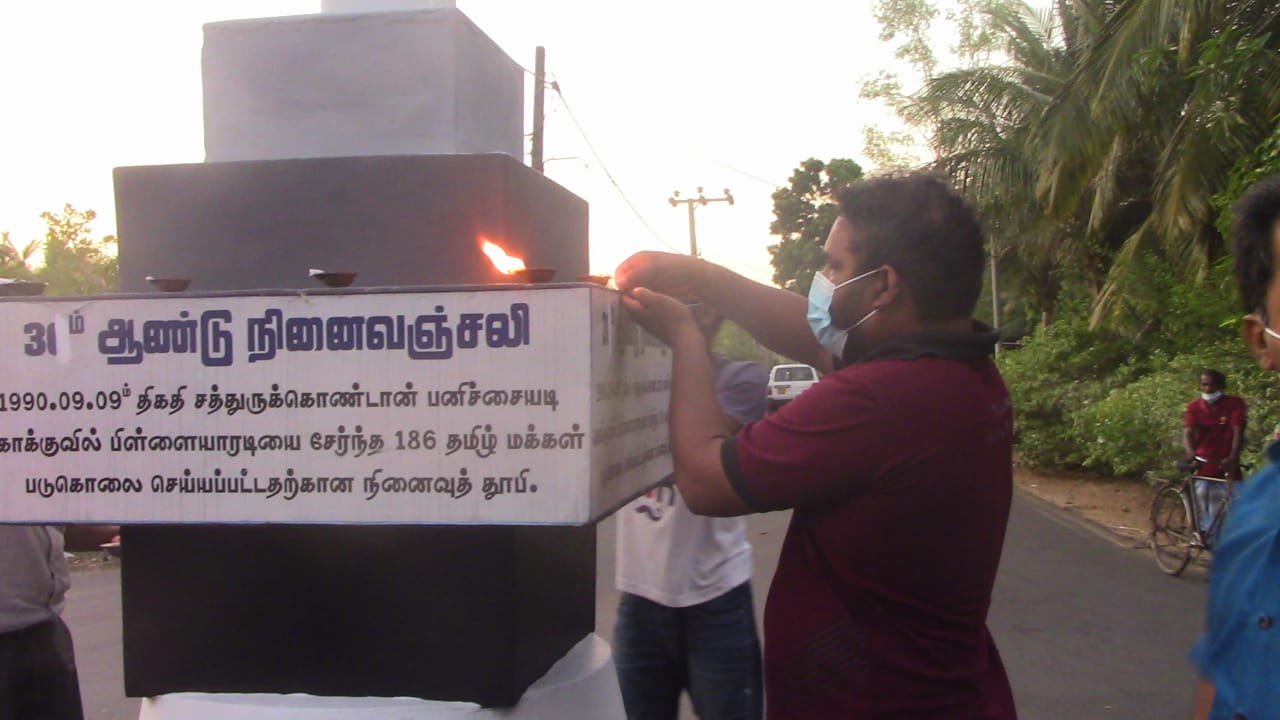 The mass killings, which were carried out during the presidency of Ranasinghe Premadasa, were investigated in a probe established by then-president Chandrika Kumaratunga in 1997. The probe identified three captains in the Sri Lankan army as being responsible for the killings. The retired judge who led the inquiry, K Palakidnar said that there was strong evidence for the massacre and urged Ms Kumaratunga to hold the perpetrators to account, however no action was taken by the Sri Lankan state.
Batticaloa Municipal Councillor T. Gowry said, "it is customary to pay homage by lighting a lamp at a memorial" especially when justice has not rendered on behalf of the victims.
"I was elected to the Municipal Council on behalf of the Sri Lanka Freedom Party, but I received my position through the voters in my constituency […] therefore, it isn't wrong to participate in the events important to the people I represent [and] I grew up hearing these tragic stories."
"This memorial is nothing more than a symbol of the victims […] it is not something to be persecuted."
Last September, then UN Special Rapporteur on the promotion of truth, justice, reparation, and guarantees of non-recurrence, Pablo de Greiff highlighted that a crackdown on memorialisation events including those that memorialised the fallen Tamil Tigers had a damaging psychological impact which was "retraumatizing and alienating". This is because it denied victims of a chance to memorialise their experience.(TG)